Welcome to the Sheppey Promenade 2018 Festival website. We have a range of events everyone from workshops for all the family to parades, concerts, All supported by Heritage Lottery Fund
All week events
Friday July 20 – Sunday 29 July – Tues, Thurs, Fri, Sat 11 am – 3 pm
Women's Work in WW1 Art Exhibition (and other work)
– at Rose Street Cottage of Curiosities

Rose St Cottage of Curiosities, 10 Rose Street, ME12 1AJ Sheerness https://goo.gl/maps/CXLbWrGAwTk
Saturday 12 May, Saturday 26 May
Tuesday 15 May, Saturday 22 May, Saturday 29 May
Hats and Banners Making Workshops
at Rose Street Cottage of Curiosities –
all starting at 11am and finishing at 2pm
Saturday 21 July 2018 – 2.30pm
Silver Band Concert – BeachField Gardens
Healthy Living Centre gardens, Sheerness, ME12 1HH https://goo.gl/maps/XbMYnFSCyow
Bring a picnic and join us in the Gardens next to the Sheerness Healthy Living Centre and Swimming Pool for a relaxing afternoon of popular tunes played by Sittingbourne's own UKPaper Band.
Facebook: UK Paper Brass Band
---
Sat 21st July at 7.30

.
Classical concert at Holy Trinity Church, Queenborough
A Musical Extravaganza
Tell Me the Truth About Love
Performed by Dr Colin Morris, accompanied by Tim Barratt
Tickets £10 – Proceeds to vestry rebuilding fund.
 From Churchwardens, Nic's Restaurant or on door
 Sunday 22 July 2018 – 11am – 4pm
Artist Open House – Julie Bradshaw
91 Emerald View, Warden. ME12 4PN.
91 Emerald View, Warden, Sheerness, ME12 4PN,  https://goo.gl/maps/qRmx5Rj7sfo
Sheppey artist Julie Bradshaw Drury is opening her studio to showcase her paintings, sculptures, beach finds and prints.
Come and see her meticulously hand-painted car which draws attention to endangered species of the World.
---
 Sunday 22 July 2018 – 1pm
Costumed History Walk with Sea Shanties – meet outside Flying Dutchman, Queenborough – booking required
ring Chris on 07775 712306
Sun 22nd July Treasure, Slavery, Castles and Shanties: The Queenborough Treasure Trail
Meet outside the Flying Dutchman pub, 19 High Street, ME11 5AA Queenborough, Kent at 1 pm
Monday 23 July 2018 – 7.30pm
Film: Talk about Suffragettes and film
Sheppey Little Theatre, Meyrick Road Sheerness
A talk will be given by Janys Thornton about suffragettes followed by a film.
---
Tuesday 24 July 2018 – 2pm – 4pm
Readings in a Country Church – Harty Church
St Thomas the Apostle – Harty Church, Harty Ferry Road, ME124BQ https://goo.gl/maps/Yvv6hmpYbRn
Join Sheppey Writer's Group in the exquisite and ancient St Thomas the Apostle church at Harty for selected readings from pieces members have specially written on the Sheppey Promenade theme of Women's work in WW1. 
---
 Wednesday 25 July 2018 – 10am – 2pm
Open Day – Family History – Minster Abbey Gatehouse
Minster Gatehouse Museum, Union Rd, ME12 2HW https://goo.gl/maps/2WaUkneWCot
10 am – 2 pm
Join Lesley Hughes, family historian, at the Museum to investigate your Island family history. Contact Lesley on 01795 874560 to pre-book a place a free research enquiry.
Admission to the museum: Concession: £1.50 Adult £2.00
http://www.minstergatehouse.co.uk/
---
 Thursday 26 July 2018 – 2.00 pm
Magic Lantern Slide-making Workshop

Families come and paint your own Magic Lantern Slide for Sheppey Promenade and come along to our weird and wondrous show in the Cottage the same evening.
Thursday 26 July 2018 – 7.30pm – Free admission (limited to 10 people per performance)
Magic Lantern Show – Rose Street Cottage of Curiosities (2 performances)
First Performance at 7.30 – 8 pm – Second Performance at 8.30 pm – 9.00 pm
Call Chris on 07775 712306 to pre-book as places are limited to 10 for each showing.
Wild Women of Sheppey: Magic Lantern Show
Roll up! Roll up! Ladies and Gentlemen! Boy and Girls!
Though our Cottage door awaits an arcade of apparitions! Devices to deception! Tales of the wild woman of Sheppey! Our cottage may appear small, but it offers views of the infinite inventiveness of the human imagination! Your hosts Frog Morris and Nicole Mollett will lead you through our parlour of the peculiar and the profound. Bring your eyes but leave your good reason by the door! You will not believe the wonders that await within..
The Art of the Magic Lantern is a collaborative performance project by Artists Nicole Mollett and Frog Morris which re-purposes pre-cinema projection equipment to create live art as travelling entertainers would have done before the invention of cinema. The project brings together heritage artefacts, research, drawing, participation, stand¬ up comedy, satire and storytelling. The show uses this ancient wizardry to confure up fantastical tales of monsters and forgotten histories and mixes original glass slides and text with modern imagery, humour and plenty of live audience interaction.
http://www.artofthemagiclantern.co.uk/
---
 Friday 27 July – 7.30pm
Comedy: The Ministry of Biscuits by the Foundry Group – Sheppey Little Theatre – £10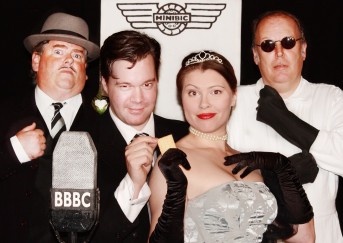 Stop! Think before you eat that biscuit! Is it in any way fancy? If so, then you are a criminal!
London, 1948 – The Ministry of Biscuits casts its sinister shadow over every tea-time and elevenses in the land. Established to "control biscuits, and to control the idea of biscuits," it prohibits decadent sweetmeats, such as the Gypsy Cream. But when Cedric Hobson, a junior designer, falls in love and designs a biscuit to "shake confectionery to its very foundations," his world – and the ministry – are turned upside down.
"What an absolutely ripping wheeze…a top-hole musical comedy without a trace of Lloyd Webber anywhere…a highly entertaining, clever show, packed with neat one liners…a festival gem" – The Stage
40′s British Light Music, Orwell's 1984 and Ealing Comedy inspired this satirical, musical fantasy, a unique collaboration between the acclaimed Carnegie-Medal-winning novelist, Philip Reeve, whose best-selling 'Mortal Engines' is currently being filmed by 'Lord of the Rings' director Peter Jackson and the multi-award-winning playwright and composer Brian Mitchell ('Those Magnificent Men' and 'Big Daddy Vs. Giant Haystacks'), with a filmed section by international film-maker Ben Rivers. First performed twenty years ago to great acclaim, the Foundry Group with the Lantern Theatre are reviving this well-loved show in a new co-production for November and December 2017, starring Radio 4 regular David Mounfield co-star with Mel Giedroyc in 'Rum Bunch' and 'Count Arthur Strong's Radio Show'.
"The freshest comedy in years…Absolutely hilarious, this is satire at its best." – Edinburgh Evening News
"Delightful…The songs are often genuinely funny…A great show!" – The Scotsman
---
 Saturday 28 July at 12 noon
Equality Parade – Sheerness High Street
High St, Sheerness https://goo.gl/maps/eFVnXRDjNwR2
Sheppey Promenade Festival highlight is the Equality Parade through Sheerness High St on the theme of the Suffrage movement and its relevance to us today. We are celebrate the progress that women have made in the last 100 years and highlight issues still to be fought for.
The Parade is open to all, individual men, women, boys & girls as well as organisations. Some will be wearing costume e.g. long skirts and big hats with sashes in the Suffragette colours of purple, white and green. Alternatively come along in your everyday clothing with or without banners or flags demonstrating your particular concerns, for instance the #METOO campaign, you will be equally welcome.
Timings for the day:
All Day Street Market including Arts & Crafts stalls            9am – 5pm
Equality Parade                                                                        12 pm
Dance – The Great Thames Disaster
Performed by The Daisy Farris Dance Collective               12.45pm
Ukelele Band and Street Theatre from Rural Applause called Rat Choc Chip throughout the day.
Sunday 29 July betweeen 11am to 3pm
Artist open house – Jo Eden
Bay View, Jetty Road, Warden. ME12 4PR

Bay House, Jetty Rd, Warden, Sheerness, Isle of Sheppey ME12 4PR (My house is not currently showing on Google Maps for some reason, have submitted an add missing address request)
11 am – 3 pm
Sheppey artist Jo Eden is opening her studio to show her sketches, sketchbooks, acrylic, pastel and watercolour art and photographs.
Sunday 29 July betweeen 11am to 3pm
Artist open house – Deborah Pugh
122 Scrapsgate, Minster-on-Sea. ME12 2DJ
122, Scrapsgate, Minster, Sheerness, ME12 2DJ https://goo.gl/maps/QwVsQ4EYcyT2
Sheppey artist Deborah Pugh will be opening her studio to show and sell her watercolour and acrylic Island-inspired artwork.
Tea, coffee and cake available at a small charge in aid of The Spinal Injuries Association..
Published on 11 July 2018 by Jeremy Thornton – web editor